CoinSafe Square Tubes
Single Tubes or Box of 100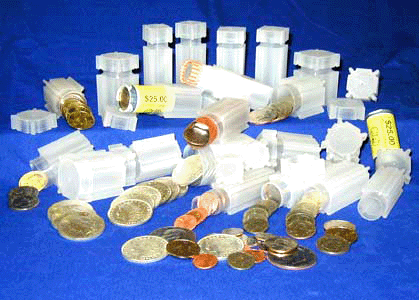 These square tubes are made of polypropylene ( PP - #5 recyclable plastic).
Archival Safe plastic product for coins and medals.
U.S.A. Manufacture: CoinSafe
As you can see from the picture above these Square Coin Tubes
will hold a roll of coins in the Original Bank Paper Wrapper.

Please note, some paper wrapped coins are shotgun wrapped, this causes the roll to be longer than depth of the tube.
Excessive paper use will increase this problem and is beyond our control if the cap will not firmly seat on this tube.
This supply item been moved to our new website.
Please follow this link to view our list of Square Coin Tubes.