Lewis & Clark
Commemorative Jefferson Nickel Folders & Holders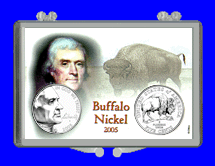 This page is devoted exclusively to show you the various types of specialty holders we have available for the Lewis and Clark Commemorative nickel issues in 2004 and 2005. Individual specialty holders like these are a great way to build a very educational display of your coins.

Attention Dealers and Retailers! We are distributors on most of the specialty holders shown on this page. If the link that says Additional Information and Prices is followed by a red it signifies that we have distributor status on that particular item and can offer them at wholesale prices.

Types of Folders Available

This bi-fold H. E. Harris Westward Series 2004/2005 Commemorative Jefferson Nickel Folder makes the perfect tool for organizing the Lewis & Clark and the Westward Journey Series Commemorative Jefferson Nickels. Additional Information and Prices.

The link to this page will show you 6 different individual Marcus 3" x 2" snap lock plastic holders imprinted with various themes to accommodate the Lewis & Clark Commemorative Jefferson nickels of 2004 and 2005. Additional Information and Prices.

This link will take you to the Westward Journey Jefferson nickel holders by H. E. Harris. There are several different for the 2004 and 2005 issues for the Commemorative nickels as well as a larger holder that accommodate all of the coins. Additional Information and Prices.

This attractive snap together Marcus holder will hold all 4 of the 2004/2005 Commemorative jefferson nickels; Peace medal. Keel Boat, Buffalo, and the Ocean View design. Additional Information and Prices.
Return to Jake's Coin Supplies Master Index
-

-
Copyright © 2017 Jake's Marketplace, Inc. All rights reserved. Privacy Policy