Popular Collectors' Products From Littleton
Titled Coin Albums - Blank Album & Pages
Sorry, we have decided to discontinue this Album line from our Inventory.
We will offer the refill pages while inventory exist.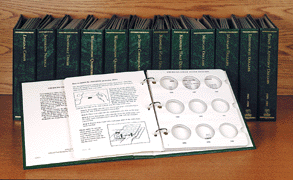 Littleton Custom Coin Albums
Designed with the collector in mind, every Littleton album features sturdy 3-ring binder construction, so album pages lie flat and can be easily removed. Brass eyelet reinforce the pages, and thumb holds make slide removal convenient.

Crystal clear slides show both obverse and reverse. Mintage figures and other series information included. Archival quality throughout — and attractive design popular with collectors!

We also have Update Labels for those albums that were only dated up to 1998. These labels are clear adhesive and preprinted with dates from 1999-2010 P, D & S (220 labels). Labels are listed on this page at the tail end of the albums.
Littleton Blank Albums & Pages

List
Price

Jake's
Price

Enter Quantity
Add To Cart

Blank Album

UPC: 675346300345

ISBN: 1-930848-60-9


( Requires a 2" Slipcase )

Blank Page for Cents
Page has 25 ports

LCABP1

Blank Page for Nickels
Page has 25 ports

LCABP5

Blank Page for Dimes
Page has 30 ports

LCABP10

Blank Page for Quarters
Page has 20 ports

LCABP25

Blank Page for Halves
Page has 16 ports

LCABP50

Blank Page for Large Dollar
Page has 9 ports

LCABPLD

Blank Page for Small Dollar
Page has 9 ports

LCABPSD

Blank Page for Silver Eagles
Page has 9 ports

LCABPAE
Album Update Labels

Clear adhesive and preprinted with dates
from 1999-2010 P, D & S (220 labels)

List Price $6.95 - Your Cost $5.95

Stock #

Description

Enter Quantity
Add To Cart

X927
Album Update Labels
1999-2010 P, D & S
Return to Master List of Littleton Products
OR
Return to Jake's Coin Supplies Master Index
-

-
Copyright © 2017 Jake's Marketplace, Inc. All rights reserved. Privacy Policy
PRN - SC441