Whitman's Classic Presidential Dollar Coin Album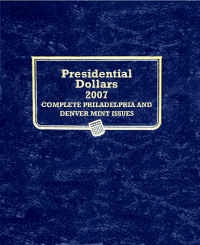 This is the deluxe way to build a Presidential Dollar series!
There are two different Whitman Classic Presidential Dollar Deluxe Coin Albums available. Album #2183 which is a 4 page album and will hold a single mint or proof coin for each president, and album #2227 which is a 5 page album and will hold both the Philadelphia and Denver Mints of each coin issued.

The pages for both albums are in a screw-post binder that allows space to add an additional page as the series grows in size. The ports in the album contain NON PVC slides that allow for 2-sided visibility of your coins. The pages have thumb notches for easy slide removal. The albums are soil resistant grained leatherette dura board and the pages lay flat for easy viewing. All of the Whitman Classic Presidential Dollar albums feature a data sheet giving mint records and historical information. Overall size of both albums is 7 3/8 x 8 7/8.
Return to Jake's Coin Supplies Master Index
-

-
Copyright © 2017 Jake's Marketplace, Inc. All rights reserved. Privacy Policy
PRN - SC1147