Historic Americana
Presidential Dollar Display Board
- Sorry, the manufacture has discontinued this item. -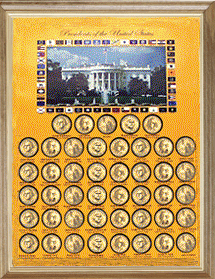 Makes an attractive looking wall display for your home or office!
The new presidential dollar coin display measures 14" x 18 " with a simulated wood frame and is a beautiful multi-color product that comes ready for display. It features a detailed photo of the White House surrounded by the flags from each of the 50 states along with space for each new dollar coin in the order of their release. In addition, there is a space to show the common reverse design.

Prices for the Presidential Dollar Display Boards do not include any coins!
Stock #

Description

List
Price

Jake's
Price

Enter Quantity
Add To Cart

KM-3961

Historic Americana
Presidential Dollar Coin Display Board

45 Ports, 43-Name and Dated for George Washington through George W. Bush, One-port for a Reverse coin display. Last port is for our 44th. President, (unkown at the time this product was manufactued (*)).

(*) Subject to: PUBLIC LAW 109–145—DEC. 22, 2005
"LIMITATION IN SERIES TO DECEASED PRESIDENTS.—
No coin issued under this subsection may bear the image
of a living former or current President, or of any deceased
former President during the 2-year period following the
date of the death of that President."
Return to Jake's Coin Supplies Master Index
-

-
Copyright © 2017 Jake's Marketplace, Inc. All rights reserved. Privacy Policy
PRN - SC1165