Historic Americana
4 Coin Presidential Dollar Coin Holder
The Manufacturer has discontinued this item
Closeout Discount while supplies last!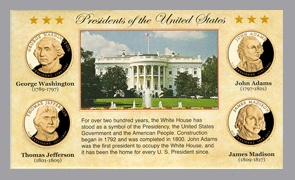 A great way to store and display your Presidential Dollar collection!
The Historic Americana series holder for the Presidential dollars is a four coin holder in a clear, snap together, plastic case. These coin holders are designed to hold all four of the Presidential dollars minted for each year of the dollar program from 2007 to 2016. Holder measures 4 1/8" high x 6 5/8" wide.

Prices for the holders do not include any coins.
Stock #

Description

List
Price

Jake's
Price

Enter Quantity
Add To Cart

KM-3965-07

2007 - Historic Americana

4 Coin Presidential Dollar Coin Holder
For The Following 2007 Dollars:

George Washington
John Adams
Thomas Jefferson
James Madison

Limited Supply left in stock
The Manufacturer has Discontinued this item
Closeout Discount while supplies last!
Return to Jake's Coin Supplies Master Index
-

-
Copyright © 2017 Jake's Marketplace, Inc. All rights reserved. Privacy Policy
PRN - SC1166