The Grading Assistant is a comprehensive tool to assist you with grading United States coins. It contains the full content of the Official American Numismatic Association Guide to Grading United States Coin - 6th Edition.
"It is difficult not to be impressed by such a useful tool"
Jack Curtis, Numismatic News
Key Benefits

Over 1,000 images covering US coins from 1793-present for grades from AG to Unc
Full grading text of the guide including intermediate grades and Uncirculated grades
Color marketplace grading section
General information on grading US Coins
Side by side presentation of 1 to 3 images from the grading set and/or a picture of your own coin.
Works either standalone or in conjunction with the Collector's Assistant

Notes: Images are not included for Presidents Dollars, Statehood Quarters, or Territorial Quarters. Recent issues contain images for higher circulated grades only (Eisenhower Dollars, S B Anthony Dollars, etc.)
Grading Assistant

Stock #

Description

List
Price

Jake's
Price

Enter Quantity
Add To Cart

CD-IB-001

Grading Assistant

$49.95

$39.95
Carlisle software products run under Windows 95, 98/SE,
Me, 2000, NT, and all versions of XP, Vista and Windows 7.
Mac users require a Windows emulator such as Virtual PC.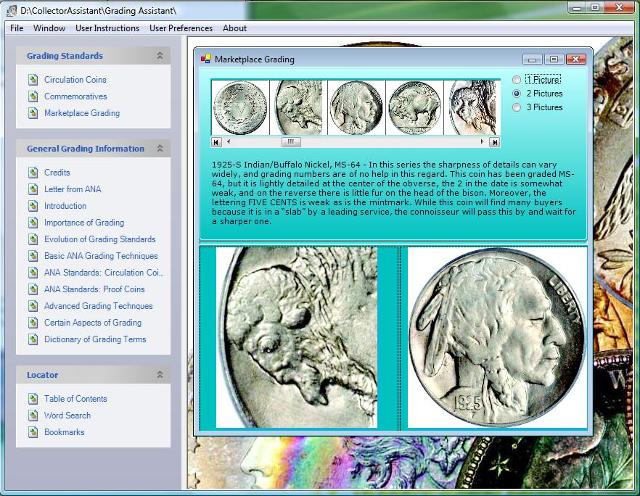 Return to Jake's Coin Supplies Master Index
-

-
Copyright © 2016 Jake's Marketplace, Inc. All rights reserved.Privacy Policy
PRN - SC467