Arrow P22
Heavy Duty Plier-Type Stapler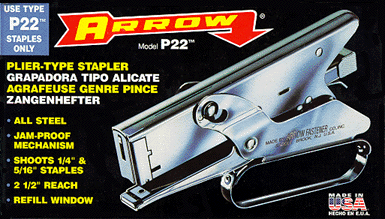 The ideal stapler for all of your stapling requirements!
As a professional coin dealer who over the years has literally stapled hundreds of thousands of coins into the Fold and Staple and Safety Flip coin holders I speak with a great deal of experience when I say that there is no finer stapler, and at a very affordable price, to do the job than the Arrow model P22 plier-type stapler.

With its plier-type grip and ease of operation it allows you to continue stapling for hours on end without the usual discomforts of pains or cramping of your hand you most often get with other types of staplers. Check out these great features:

Easy to disassemble and reassemble.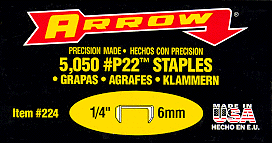 Staples are not included and must be ordered separately. We recommend you use the 1/4" staples when stapling the Fold and Staple coin holders and the 5/16" staples when your stapling project requires a staple just a tad longer in size.
Stock #

Description

List
Price

Jake's
Price

Enter Quantity
Add To Cart

AP22

Arrow P22
Plier-Type Stapler

$24.95

$19.95

AP22S-1
Box of 5,050
Arrow P22 1/4" staples


$4.00

$3.50

AP22S-2
Box of 5,050
Arrow P22 5/16" staples

$4.00

$3.50
Return to Jake's Coin Supplies Master Index
-

-
Copyright © 2017 Jake's Marketplace, Inc. All rights reserved.Privacy Policy
PRN - SC705