Marcus Oak Frame Wall Display
U.S. 20th Century Type Set
Sorry, this item is no longer available.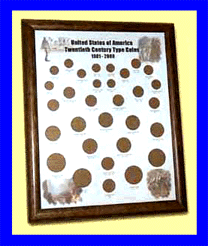 Makes A Beautiful Wall Display For Home Or Office!
Assembling coins by type is a great way to collect especially with this U.S. 20th Century Type Set by Marcus. This handsome wall display is perfect for home, office, gifts or rewards. It has a solid oak frame that measures 12 3/4" wide by 15 3/4" high. Its beautiful four-color artwork panel is protected by a pane of glass. It can be ordered as a complete unit with the oak frame or just the inner panel that holds the coins.

If you have been collecting coins even for a short period of time more than likely you have duplicates of most of the coins that go into this set and the ones you may be missing are all very reasonably priced.
Start your U.S. 20th Century Type Set today!
Center display card for the Marcus U.S. 20th Century Type
Set may be ordered separately without the oak frame.
Prices shown for the U.S. 20th Century Type Set Wall Displays are without coins.
Marcus Oak Frame Wall Display
20th Century Century Type Set

Stock #

Description

List
Price

Jake's
Price

Enter Quantity
Add To Cart

MTSWD
Marcus U.S. 20th Century Type Set
Wall Display
With Solid Oak Frame

$21.95

$18.95

MOFDC3
Marcus U.S. 20th Century Type Set
Display Card Only
Without Oak Frame

$6.95

$5.95
Attention Dealers and Retailers!
We are Distributors on the Marcus 20th Century Type Set Wall display.
Be sure to check Jake's Marketplace, Inc. Wholesale Page for dealers prices.
Return to Jake's Coin Supplies Master Index
-

-
Copyright © 2014 Jake's Marketplace, Inc. All rights reserved.Privacy Policy
PRN - SC719