1939 D Jefferson Nickel - ANACS Certified MS-65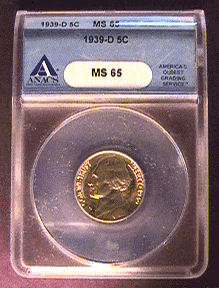 Back in 1955, when I was just 16 years old, I was at one of the major coin shows in Ohio with my father. I had just purchased an assortment of miscellaneous coins in a lot from a neighbor that knew I was a collector and occasionally would sell me various items that he had duplicates of.
In this lot was a superb 1939 D Jefferson nickel. Yes, indeed it was a GEM with blazing luster. At that time I did not think of it as anything Special because 1939 D nickels in circulation were very plentiful, and, OK, this was what we then called Choice Brilliant Uncirculated, but Lincoln cents and a few other things were more important to me at that time. I sold the coin at that show to a Professional Coin Dealer for what I thought was a phenomenal amount of $15.00. Not bad considering it only had a RED BOOK value of $16.00. I later learned that the NEW RED book was just about to be released and you could generally anticipate a increase in values on Uncirculated and Rare dates in all grades, and I also learned that truly GEM coins were valued at far greater than the stated book price back than, and still are. That $15.00 was well spent at the show on items I wanted more than the nickel.
Today, truly GEM 1939 D Jefferson nickels are far Scarcer than the current market price indicates. That's party because the majority of collectors only collect circulated specimens, and a high percentage of the collector's that are building Uncirculated sets fall into the trap of those dealers offering the SELECT BU's at what appears to be a bargain price. If you purchased one of these SELECT BU's you will learn when you try to sell the coin what you really got for your money.
For those of you that know the true value for a GEM 1939 D Jefferson Nickel, and order one today, there will be a day when you can say I remember when these coins were available from Jake's Marketplace, Inc. back in 2008 at a price you would absolutely not believe.
Order Your ANACS Certified Jefferson Nickel Today!